Thursday, September 29, 2011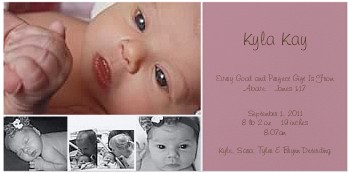 Initial Impression Pink Baby Announcements

Posted by

Deterding Family
at 9:54 PM
No comments:

Thursday, May 5, 2011
Posted by

Deterding Family
at 4:16 PM
No comments:

Here are a few pictures of our wonderful Easter 2011
We enjoyed the day with both sides of our family. First with grandma Cheryl and grandpa Kermit…
Then with grandma Sandy and grandpa Jim!
The kids enjoyed seeing the Easter Bunny
and hunting for eggs….
making jello jiggler eggs…..
and then hunting for more eggs!!!
Oh and can't forget the annual tradition of dying Easter eggs!
What a wonderful Easter!
Posted by

Deterding Family
at 3:18 PM
No comments: